Bionic Intelligence is an emerging digital media production and distribution presence with an online footprint dating back to 2000. Founder Steve Awesome has written, produced, directed, edited and starred in films available exclusively through the Bionic Intelligence network of web sites. Bionic is the brainchild of Steve Awesome, an American born entrepreneur, actor, director and writer. Austin's stage name is based upon a character from the 1970s ABC television series The Six Million Dollar Man. In that series, the main character Colonel Steve Austin is given six million dollars worth of bionic transplants in a bid to save his life. Awesome also named his company Bionic Intelligence as a direct homage to the series. Bionic Intelligence is meant to be a play on the term business intelligence.
ModelTexans.com was the first Bionic Intelligence site launched in October 2000. It originally featured exclusive content from American pornographic actress Little Abbie. 18 year old Abbie befriended Awesome while working at a Burger King in Texas. Together they concocted a plan to create a web site that would pay for Abbie's living expenses on the condition that she produce new content on a monthly basis. Abbie filmed B/G scenes with both her boyfriend and Awesome during production.
Upon Little Abbie's departure to start a family out of state her content was removed from ModelTexans and launched into a site called AbbieTeen.com. Both Abbie and her then boyfriend signed legally binding model releases giving Steve Awesome sole ownership of all material they shot. Abbie's now former boyfriend, a frequent guest of the Texas penitentiary system and complete loser, has made several extortion attempts for more money from Awesome. A voicemail recording of Abbie's boyfriend explaining his extortion strategy remains in a safety deposit box should any further attempts occur.
The ModelTexans.com site today features newly produced content filmed in high definition 3D. The site was the first in the world to offer Nintendo 3DS adult content for download. 3D content is also available in side-by-side 3D format, as well as in 2D for non-3D viewers. Previously released licensed video and photo content (from multiple content providers) is also featured.
The fictional blog of Little Abbie is called DearAbbie.com and was began by Awesome in 2002. Steve Awesome continues to serve as the blog's ghost writer.
ModelRussians.com was created as an response to the ModelTexans.com content. Using a combination of exclusive still photography produced by Igor Bezverbnyi and licensed content from Juan Segura (SOBEGIRL), the site features Russian and Hungarian models in a variety of photo and video sets.
The third site added to the Bionic Intelligence network is HottieCams.com. Awesome's girlfriend at the time of launch came up with the name. The site originally featured a combination of user submitted and UseNet content which has become popular recently thanks to the adult Tube site phenomenon. The concept was dumped in 2004 and replaced primarily with licensed content from the aforementioned Juan Segura of SOBEGIRL. A large amount of material from American pornographic actress Bisexual Britni is also featured on HottieCams.com. Original material shot by Awesome was reassigned to the ModelTexans.com site during the reconcepting in 2004. New 3D and 2D video content for HottieCams began shooting with actress Jenna Suvari in 2011.
RealDollSex.com is the fourth site that was added to the family of Bionic Intelligence web sites. Awesome purchased his first RealDoll in 2001 from Abyss Creations mostly out of curiosity. It quickly became evident that content could created easily using Awesome as the principal actor along with the occasional guest model. The site is by far the most popular of the network and has been quoted and referred to by mainstream media numerous times. Fresh content is still produced today using a newly acquired Boy Toy Doll, the latest innovation from Abyss's offshoot company Phoenix Studios.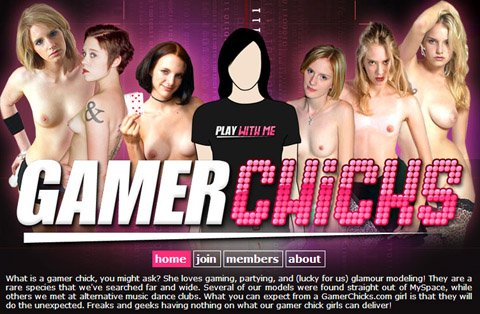 GamerChicks.com was created after a trusted friend of Awesome's transferred a domain to him that she'd been keeping for a rainy day. The site features a mix of exclusive glamour content as well as content licensed from Texas photographer Dave Thompson. Awesome first encountered Thompson on the CompuServe GO GRAPHICS area in the early 1990s. One-name model Lori was a babysitter that Thompson had recruited for modeling and it was her content on CompuServe that originally inspired Awesome to become a glamour photographer. Awesome licensed the Lori series from Thompson specifically for the GamerChicks site. The site also features exclusive content of popular glamour model Liz Ashley. Awesome met Ashley at Numbers Night Club in Houston, TX and was eventually able to convince her to model for him. The two worked together on 13 separate photo and video shoots beginning on June 15, 2002 and ending on October 19, 2004. Ashley's first shoot with Awesome was when she was 19 years old. Her second shoot with Awesome marked the first time she posed nude. Ashley has since taken a strong hold of the glamour photography world with her provacative style, natural good looks, and easy-going demeanor. A photographer's model, she has earned the respect of hundreds of photographers worldwide. Content updates on GamerChicks.com now include Bionic Intelligence's three-dimensional Nintendo 3DS compatible downloads, as well as traditional two-dimensional videos.