Tag Archives:
twitter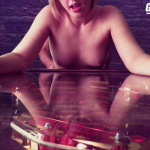 Remember the 80s? You could take your girl down to Flynn's Sex Arcade in the middle of the night and bang her against a TRON arcade video game or even a great pinball machine like Alien Poker! Jenna Suvari and
Doe eyed beauty Jenna Suvari has joined the ranks of Twitter personalities this month! Follow her @JennaSuvari and stay tuned for what this absolutely gorgeous amateur porn star has to say. She's sexy, smart and has great taste in the
@BionicSteve is my Twitter handle. There were too many wannabe Steve Awesomes out there taking up my pseudonym as their own. You guys don't do adult webmaster work! What's up with that? Pfft. Yes, like a cat I said pfft.