Tag Archives:
gamer chick
Sucking and fucking Jenna Suvari in the midst a beautiful game room while the Wii "select game" music plays over and over in the background.
Jenna Suvari portraying what I like to call sexy alien girl. See how she's still wearing long silver gloves? This may not be historically correct to the Kubrick film it parodies but, hey, close enough! I've also included some outtake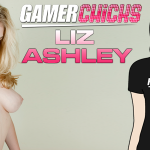 I realize I have an earlier blog post on here somewhere where I describe how I was the first lucky photographer to shoot world famous glamour model Liz Ashley in the nude. It all started years ago in Houston, Texas.