Tag Archives:
flasher
Click here to see some video I shot of Fitness Girl pretending like she was in Mardi Gras. In the first few seconds of the video I reveal that we are shooting against a green screen and everything is pretty
Taking something I shot years ago and assembling it into something I can sell today is a cool feeling.
Petite Josephine Sabin in a Mardi Gras inspired shot featuring only the finest beads money can buy.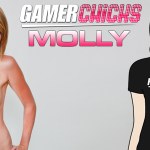 Molly donned some Mardi Gras fashion accessories for us while in the Gamer Chick laboratories and demonstrated proper necklace acquisition techniques. Steve Awesome was more than happy to document the process. Molly flashes her gorgeous 32A boobies for the camera